In "Man of Rock," Bill Schelly's recent biography of Joe Kubert, the well-respected graphic novelist and former DC editor says that he and Alex Toth knew each other well from "way, way back" in the 1940s when they were teenaged cartoonists. Kubert is two years older than Toth, which may have seemed like a lot to them then. He says that at sixteen Toth worked "like a dog–his intensity overwhelming." While I don't get the sense that Kubert and Toth were ever especially close as friends, they shared studios and social contacts, and both artists worked for early DC editor Sheldon Mayer. A talented artist in his own right, Mayer was a volatile editor. Toth recalled that Mayer tore up one of his early stories. Kubert says that he saw Mayer "verbally rip a guy apart…and take original pages and fling them right across the room," but notes that he was not treated in this way, perhaps because he was "bigger."
Both artists claim Mayer as a key formative influence. In later years when Kubert acheived editorial positions, his relationship with Toth changed as it became one of management and labor. Toth's efforts for editor Kubert on two stories appears to be the key to their mutual disaffection. Neither party understood the other's motivations, but as a result, a major Toth work was rejected to be lost to posterity, their friendship ended and in later years Kubert was criticized by Toth. Kubert's own accounts of their conflicts are inconsistent.
At St. John in 1954 Toth drew a 5 page story for editor Kubert's title Tor Vol. 1 #3. Danny Dreams was done in a fertile period of discovery for Toth, contemporaneous with his early masterpiece The Crushed Gardenia, as he was formulating his mature pared-down style. Kubert says in a letter printed in 1999 in Toth: Black and White that the story was "drawn close to printed page size—beautiful tight artwork," but in an interview done in 2006 for Alter Ego Kubert says he was "shocked" and "disappointed" with the work when he first saw it. Perhaps because the original art was so small, or maybe because its simplicity at that time was not what the more detail-oriented Kubert expected, he mistook the economy of line that marks Toth's great later work for laziness. Or, perhaps it was because Toth omits the folds of most of the ears of the characters in Danny Dreams and draws them as empty curved shapes.

In Gardenia Toth omits fingernails and he does that here too, as he experiments with different ways to simplify his drawings. These are nearly subliminal drawing tics, though; Danny Dreams is a very fresh-looking little story, lightly handled and spare, but concisely drawn. However, Kubert says he feels that Toth "really didn't put in the time that I felt he should have done," as if Toth thought he could get over because they were old pals. It is not clear if Kubert ever expressed his displeasure with this piece to Toth.
The next work Toth did for Kubert was fifteen years later. In 1968 DC head Carmine Infantino made Kubert one of his new cadre of artist/editors. Kubert took over DC's line of war comics. He isn't sure how Toth came to work for him: "I imagine…I called him." According to Kubert, Toth did a few "filler stories" for him and then asked for an Enemy Ace script. In Schelly's bio, Kubert claims that Toth already had a "reputation at DC for changing the scripts he was given", so he told Toth not to "change it too much." However, in the very next paragraph he says he told Toth not to "change a word" because Robert Kanigher's script was "damn good." Kubert says that Toth agreed to the latter terms.
Full-length stories by Toth are very rare; he generally preferred to do short stories because of the extreme amount of time and thought he put into each page. Still, he loved to draw biplanes sparring in flight, so the Enemy Ace story had to have been fully invested by the artist. When he recieved the package of finished art, Kubert says that he "saw red" when he saw what Toth had done. He claims that Toth had made it into a "completely different story." Without hesitation, Kubert rejected it and sent the package directly back to Toth with a note that said "do what you want with this." Toth was not paid for his work.
Kubert could do this because as the editor he had the final say on the material that went to print; he was responsible for the comics he oversaw. But still, this incident seems like a drastic decision. There was no negotiation and it was a lot of work to discard without considering ways to fix problems, on a tight production schedule. Kubert apparently did approve that Toth would letter the story himself, perhaps because of the tight deadline. Toth always cleaved close to the heart of a story, but if he lettered he did often amend the text in order to make the narrative work better…lettering is the only way an artist has the ability to improve or streamline a script. As well, at this time Toth had begun to reject antiheroics, so he might have not wanted to show the self-pitying German aviator Von Hammer in such a sympathetic light as was usual.
Kubert told Will Eisner that he would only allow an artist to alter a script who was "intelligent enough to actually put words together," a criterion Toth apparently didn't meet for him. Still, it is hard to believe that the story did not benefit from Toth's approach, or that it would have been altered so much as to be unsalvagable. Perhaps Toth did make it so different that Kubert didn't know what to do with it, but by Kubert's own account, he didn't try to figure out if he could fix it to make it work—he lost his temper. Surely, having the story relettered would be a better option than wasting what was good about his friend's hard work and depriving him of income. By the contracts of the day, he wouldn't have needed to consult Toth to fix any problems himself, although it's hard to say what would have angered Toth more.
Now faced with no story and an imminent two-week deadline, Kubert hired Neal Adams to pencil another version of the original story. Adams was "honored" to do so, although it is unclear if he knew why he was hired. He knocked out such an exact replica of a Joe Kubert Enemy Ace comic that as Kubert inked it, he felt as if Adams had "crawled into my mind."
In the absence of the rejected version itself, one doesn't know if it was possible for Toth to amend it sufficiently to sell it to another publisher, based as it was on a specific character/property. Worse, the story was likely as perfect as the perfectionist Toth could make it, so it would be greatly compromised. With a now-unpublishable piece of work and obviously hurt by the loss of income and by an inexplicable rejection by an old friend, Toth left the package of original Enemy Ace art in the trunk of the old car that stood in his driveway for years. The pages, which had likely been drawn with water-soluble ink markers, dissolved in the elements. Apparently, no stats or copies exist.
It seems all the more absurd because as published, the story is not "damn good" but a particularly ill-defined, forgettable Bob Kanigher script. Despite the promise of the cover, Star Spangled War Stories #144 is notable only for the unique but sloppy teaming of Adams and Kubert, and is perhaps the weakest issue of the Enemy Ace run. The rejected version must have been a major piece of Toth's comics work, done when he was at an artistic prime. This loss to comics history might have been the result of the slight felt by Kubert about Danny Dreams—Kubert may have thought that Toth was trying to get away with something again and so taught him a lesson. It seems that Toth did not understand why any of this transpired, since he did good work for Kubert on both occasions.
Kubert remembers that Toth drew the Enemy Ace job after his work on several of "Kanigher's best" short stories, but in fact those came out years later. The published comics indicate that the Enemy Ace for Kubert was one of Toth's first jobs after a long DC hiatus: he had not worked for DC since 1965. There was a four-year break with only one Toth-drawn DC story (Witching Hour #1, cover-dated January 1969) published before the Enemy Ace job was scheduled to appear. Star Spangled War Stories #144 (cover-dated April/May 1969) with the Adams/Kubert story hit newsstands February of 1969. Toth's next two stories appeared in Young Love 73 (April '69) and 74 (May '69).
It is not clear which DC editors complained about Toth's changes to Kubert. Toth rarely had the opportunity to letter his own work to make script alterations. He lettered some of his Eclipsos for Murray Boltinoff and Jack Schiff. Or, perhaps it was Julius Schwartz, who fired Toth in 1952 after an altercation in the DC office regarding the relative importance of Schwartz's bridge game and Toth's check in Schwartz's desk drawer. Otherwise, given the timeframe involved, Toth stories might have been held in inventory by editors such as Joe Orlando and Dick Giordano, since they came out long after Kubert's rejection.
Kubert recalls the Enemy Ace story as ending their friendship, but four great Kanigher/Toth collaborations were published in Kubert's war books afterwards in 1970-73. Now, despite their "make war no more" taglines, the DC war comics most often are the very definition of the glamourization of war by their very bloodlessness, but I consider Toth's to be the most powerfully drawn and sympathetic portrayals ever to grace their pages. In Soldier's Grave Toth brings the world of ancient Egypt and a visceral hand-to-hand combat between ill-matched opponents to expressive life.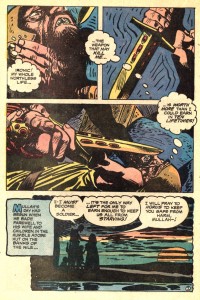 Toth gives the poetic Civil War short The Glory Boys (Our Army At War #235, 1971) a sparely drawn widescreen realism that anticipates the look of Jacques Tardi's later cinematic WW1 epics. There's no doubt that Toth greatly enriched White Devil, Yellow Devil with his superlative Sickles/Caniff jungle patterning and his deft delineation of the two young soldiers. It is a feat of immersive comics storytelling that arguably stands as Toth's finest moment.
The Tally is a delicately shaded WW1 aerial story, which didn't appear until February 1973 in Our Army At War #254. If Kubert's recollection is correct and these short Kanigher/Toth masterpieces were done before the Enemy Ace job, it means that he held them back in his inventory for years.
As artists, Toth and Kubert couldn't be more different. Toth is unmatched in his storytelling virtuosity, but because of his process he was never prolific. He did few covers. In my mind Kubert's best work is his covers for the DC war comics: hundreds, maybe thousands of compelling compositions, many of them variations on the tried and true DC theme of soldiers in hiding while seeming innocents point them out to the enemy searching nearby.
Kubert's characters are lean and extremely grizzled but still somehow elegant as they take their beatings and agonize, beautifully drawn in his somber, sinuous brush and linework. He excels at large drawings and spreads where he can use his skills in dramatic composition and supple rendering.
However, in letters and essays published later in his life Toth wrote that as a continuity cartoonist, Kubert often resorts to stock templates for page and panel construction. In his last interview with Gary Groth, Toth decried Kubert's influence on the work of Frank Thorne and said that Kubert "had the stuff to be a lot better and he took easy ways out." Perhaps, but it should be said that Kubert has drawn a hell of a lot more comics than Toth ever did. While I appreciate his early, rich inking style and his few collaborations with Harvey Kurtzman such as Bonhomme Richard, mainly what stands out for me are his Sgt. Rock stories and his covers, particularly in the 1960s and early 1970s—and in more recent years he has made efforts to produce meaningful work in the graphic novel form.
But while Kubert may not have torn art and tossed it around his office as Mayer had done, he did have a heavy editorial hand. In his war books he redrew heads and made other extensive alterations to the work of veteran storytelling artists such as John Severin, Dan Spiegle, Gray Morrow and George Evans. Perhaps these changes were usually intended to adhere to DC's approved uniform likenesses for their character/ properties. It might be argued that it was DC that wrongly assumed that readers don't notice such stylistic lapses, but in these cases, they are overdone and might indicate a lack of respect for the artists.
Perhaps in his familiarity with Toth over the span of half of a century, Kubert is blind to his friend's genius. From his assessment of Danny Dreams, it seems clear that in that case at least, he underestimated the value of Toth's continuity storytelling and so thought badly of him. Danny Dreams may not be Toth's absolute finest, but it is not a half-baked effort. It is done in his most advanced style of the time. The Enemy Ace rejection seems not to be an objective editorial decision. Kubert believes that Toth took advantage of him once, that he delivered a weak effort. It seems possible that Kubert held a grudge and later reacted impulsively. He lost his friend in the process, because while Toth may have had no idea why this happened, he was definitely one to hold a grudge.
Other questions loom…why would Kubert single Danny Dreams out for praise in a book about Toth, then slag it in an interview later? And why, out of the half-dozen truly brilliant war stories Toth did, that are some of the best of the artist's career, that Kubert should be proud of, since he helped make them happen—why wouldn't Kubert praise one of those, instead of a piece he didn't think was good? Could it be that his opinion of Danny Dreams altered retroactively after Toth criticised his practice in print?
So then, perhaps it was all about too-radical alterations on Enemy Ace. Another twist of these endless speculations may be that Kubert misremembered that the short Kanigher/Toth stories were done before the Enemy Ace story, that they were actually done after—that Toth somehow swallowed the loss of his story and went on to do great work for Kubert. Perhaps it was a tragic misunderstanding, or perhaps both men simply participated in an enactment of the editor-artist relationship that they learned from Sheldon Mayer.
What a web—but regardless of whether Kubert didn't appreciate Toth's work in 1954 and it degenerated from there, he certainly doesn't now: Kubert claims he gave a certain amount of latitude to "any artist of Alec's (sic) ilk." But—Toth has no ilk. He would have brought all of his brilliant talents to bear on the Enemy Ace story. Kubert admits it was "beautiful"—but he gave Toth no latitude. He sent it back too abruptly, without sleeping on it, without considering ways to change it to make it publishable and without making any copies. And so, unfortunately, he is the only person lucky enough to have seen it.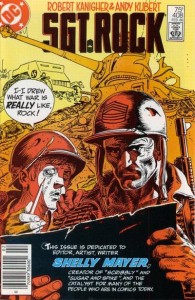 First published on The Hooded Utilitarian
References:
Auad, Manuel. Toth: Black and White. Auad Publishing, 1999.
Amash, Jim. Interview with Joe Kubert. Alter Ego, Vol. 3, No. 63, 12/2006.
Black, Bill. America's Greatest No. 10. A.C. Comics, 2004.
Eisner, Will. Shop Talk. Dark Horse, 2001.
Garcia, John. All In a Day's Work. Squa Tront #11, Spring, 2005.
Groth, Gary. A Conversation with Alex Toth. The Comics Journal #277, 7/2006.
Hitchcock, John and Alex Toth. Dear John. Octopus Press, 2006.
Schelly, Bill. Man of Rock. Fantagraphics, 2008.
Toth, Alex. Before I Forget: about Shelly Mayer. Comic Book Artist #11, 1/2001.
Vandeboncoeur, Jim. Alex Toth: a Comic Art Index. Comic Book Artist #11, 1/2001.